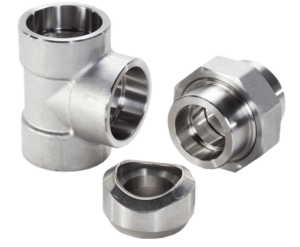 We stock both Socketweld & Threaded fittings to serve your requirements.
Size Ranges: 1/8″ – 4″   304/304L & 316/316L   A/SA182
Dimensions and materials conform to ASME B16.11, MSS-SP-79 (Inserts), MSS-SP-83 (Unions), and other standards where applicable. Threads conform to ASME B1.20.1 NPT. Material conforms to ASTM-A-182, F304, F304L, F316, or F316L.  Material conformance to QQ-S-763 and other alloys may be available upon request for quotation. All 3000 LB, and 6000 LB Fittings are identified with the Nominal Pipe Size, Pressure Rating, Material Designation and Alloy, and Heat Code Identification.
Fittings available in Aluminum, Stainless, Copper Nickel, Carbon Steel, & Nickel Alloys among others.